The living Areas at
3900 Pebble Beach Dr.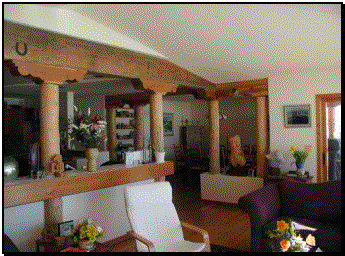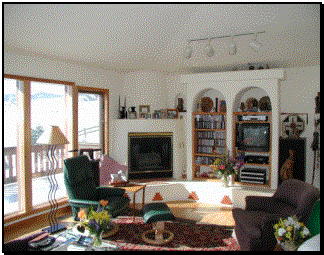 The organic living center of this home features exposed post-and-beam construction, incorporating local peeled beams and corbels from Taos. The wide plank oak floors throughout the main level harmonize with the rustic pine and fir to lend a natural elegance to this open entertainment area. Whether there is a small family or a large party here, the people, sounds, aromas, sunlight and sight lines flow between the living room, kitchen and dining room.
The living room itself stretches along a glass-lined southern exposure, open to the partially covered deck. It features a built-in entertainment center with banco, clean gas Hogan fireplace, pass-through counter to the kitchen, porticos for sculptures and an airy vaulted ceiling.
The over-sized dining room is ample for dinner parties of a dozen, while also convenient to the kitchen for quick snacks. The farmhouse style kitchen includes all modern appliances, lots of counter space and room to move about. The kitchen floor is rugged Saltio tile from Mexico, matching the floors in the bathrooms, laundry and pantry. Counter backsplashes are in Mexican tile, repeating color and pattern themes throughout the house.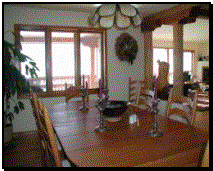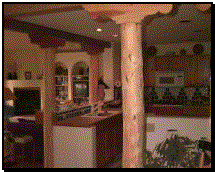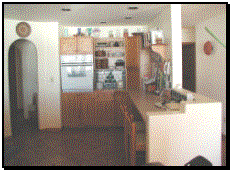 The house was designed by its owners with famed Southwestern architect/builder Randy Hartman. It was carefully planned for comfortable, low maintenance living in harmony with the environment. The Pueblo adobe style flat-roof building is sited low on a gentile hillside, secured with caissons to the bedrock. Passive solar orientation and design features keep the interior warm in the winter and cool in the summer. The central A/C is virtually never needed and the heating bills are minimal. Plumbing is low water consumption and the native grasses require no watering – a simple drip system aids the trees and some of the flowers. Exterior walls are six inches thick and super-insulated. Thermal windows are transparently coated to control sun rays, with functional and stylish overhangs. The home is scaled for relaxed living. Rooms are arranged conveniently and there is no wasted space. The house makes minimal demands on its inhabitants and encourages peace, contemplation and relaxation. It is tuned to modern lifestyles, while incorporating traditional architectural features of the region.

Return to home page for 3900 Pebble Beach Drive