The Master Suite at
3900 Pebble Beach Dr.
The spacious master bedroom suite is on the ground floor, well removed from the active part of the house. The sleeping area faces the morning sun as well as the southern views. It opens into a brightly tiled master bath with spa tub and glassed in shower. The sinks in the three bathrooms are all hand-thrown and coordinated with the tiles. A large walk-in storage area includes built-in shelves, drawers, cubbies and hanging bars. The sleeping area and storage are carpeted with a purple thick pile, while the master bath and laundry have Saltio tile floors. A laundry and cleaning center is integrated into the master suite.
In the pictures below, you can see the bay window of the laundry room, with natural reed shutters. The tile above the powder-room sink features a hand-painted drawing of the house. The guest bathroom upstairs transforms the tile patterns of the kitchen, laundry and master bath into a lively teak and maroon color scheme. Even the simple, utilitarian rooms of the house carry out the aesthetic feel. Throughout, there are custom fixtures from Sante Fe, crafted touches, fine workmanship and attention to detail.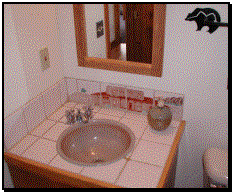 Elegant, but modest, the home is scaled for comfortable living. It is adaptable to a family that likes to spend time together, a professional couple who prefer to work at home, "empty nesters" who enjoy entertaining guests, or an active retired pair. During extended vacations, this low maintenance house can be locked and left without a care – just cancel the mail.

Return to home page for 3900 Pebble Beach Drive