Designing and Living in a Southwestern Home

In Fall 1993 we bought a piece of the Colorado high desert at the base of the Front Range foothills of the Rockies, just on the north border of the Boulder greenbelt. We decided to build a house that went with the terrain. Working with Randy Hartman, a local architect who specializes in solar and Southwestern design, we came up with a blueprint. In designing the house, we were influenced by Christopher Alexander's A Pattern Language. (See my discussion, "Designing my house".)
In Spring 2002 we reluctantly decided to sell our house in order to relocate back to Philadelphia. See the brochure and web pages about how we viewed our home then.
Here is a tour of our home, following a series of principles from Alexander's book, referenced in the captions. We interpreted each of these patterns in a unique way, expressing our personal vision.
Pattern 134. Zen view. The view that one gets when one enters the house includes a glimpse through to the panorama out back, the major feature of the house.

Pattern 127. Intimacy gradient. The house is laid out along a "T", to provide a transition from public to private areas. Here is the corridor running from the utility wing (garage, mud room, pantry) to the private wing (stairs to offices, master suite). The front door entrance comes into the middle of this corridor (from the left) and opens into the corridor shown in the Zen view, which leads to the public space (kitchen, dining, living room).

Pattern 139. Farmhouse kitchen. The large open kitchen is the social and physical hub. It opens to the living room (to the left) and the dining room (the camera's location).

Pattern 192. Windows overlooking life. In place of the traditional window over the sink for light and a view, here the wall over the sink is open to the living room and the view across the plains.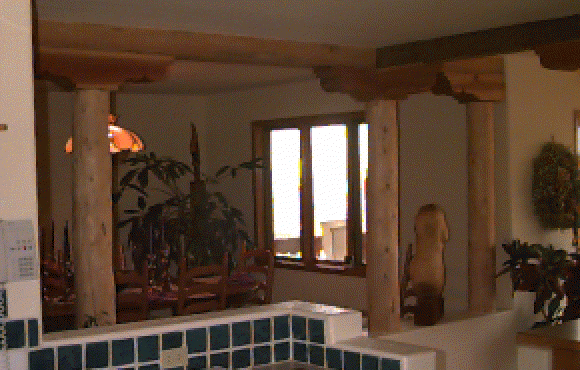 Pattern 159. Light on two sides of every room. Pattern 193. Half-open wall. Light should enter a room from at least two sides to prevent harsh shadows. Here the wall on one side of the dining room is open to the hall and kitchen and living room, to spread light, air and a sense of openness.

Pattern 114. Hierarchy of open space. The deck is literally another room off of the living room. The area of the deck immediately outside the sliding door is covered, providing a sheltered space for relaxing, socializing and eating outdoors in any weather during half the year.

Go to top of this page
Return to Gerry Stahl's Home Page
Send email to Gerry.Stahl@drexel.edu
This page last modified on January 05, 2004