Hiking & Gardening in the Desert

Hiking in the Rockies
My favorite trail is up to Pawnee Pass from Brainard Lake.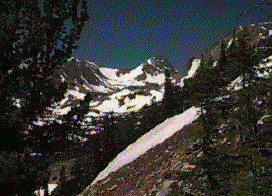 It is in the middle of the Indian Peaks section of the Front Range of the Rockies.
The trail starts about 20 miles due West and about 4,000 feet up from my house.

Gardening in the Desert
Our xeriscape front yard (left) with a detail view of penstamon, yucca and New Mexico privet (right):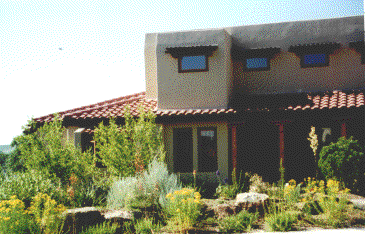 We are trying to make the desert fertile without losing what is unique to this environment. While trying to save the local cactus and wild flowers, we are adding many xeric bushes and flowers. One area of the back has a small evergreen forest of pinion, ponderosa and Colorado blue spruce. Another is our orchard, with apple, cherry, plum and pear trees. Strawberries and grapes thrive around our deck.
In summer '95 Carol's father, Red, helped me build raised bed frames for a vegetable garden. This summer, we are growing tomatoes, pepers, corn, salad ingredients and squash. It is one of the joys of home-ownership to be able to spend warm afternoons playing in the dirt and then enjoy the fruits of one's labor.

Go to top of this page
Return to Gerry Stahl's Home Page
Send email to Gerry.Stahl@drexel.edu
This page last modified on January 05, 2004