Group Cognition Book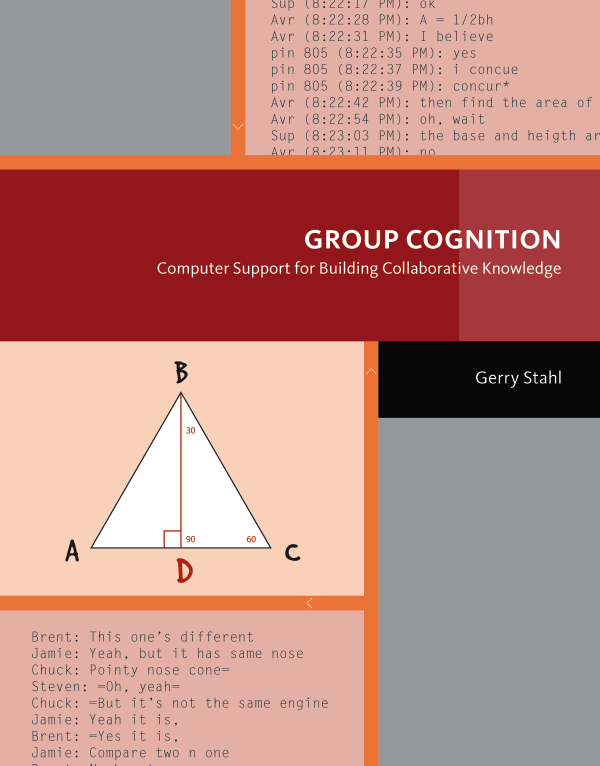 Available Now
Stahl, G. (2006). Group cognition: Computer support for building collaborative knowledge. Cambridge, MA: MIT Press.
Amazon.com (hardbound): http://amazon.com/gp/product/0262195399
Amazon.com (Kindle version): http://www.amazon.com/Group-Cognition-Collaborative-Knowledge-ebook/dp/B004GCIJUG
Barnes & Noble: http://search.barnesandnoble.com/booksearch/isbnInquiry.asp?z=y&isbn=0262195399&itm=1
MIT Press: http://mitpress.mit.edu/catalog/item/default.asp?ttype=2&tid=10926
---
About the Book
Exploring the software design, social practices, and collaboration theory needed to support group cognition -- collective knowledge constructed by small groups online ....
from the back cover:
Global and local networks of linked computers make collaborative working, learning, and acting possible through innovative uses of computer technology. In Group Cognition Gerry Stahl explores the technological and social reconfigurations that are needed to achieve computer supported collaborative knowledge building--group cognition that transcends the limits of individual cognition. Computers can provide active media for social group cognition where ideas grow through the interactions within groups of people; software functionality can manage group discourse that results in shared understandings, new meanings, and collaborative learning. Stahl offers software design prototypes, analyzes empirical instances of collaboration, and elaborates a theory of collaboration that takes the group, rather than the individual, as the unit of analysis.
Stahl's design studies concentrate on mechanisms to support group formation, multiple interpretive perspectives, and the negotiation of group knowledge in applications as varied as collaborative curriculum development by teachers, writing summaries by students, and designing space voyages by NASA engineers. Stahl's empirical analysis shows how, in small-group collaborations, the group constructs intersubjective knowledge that emerges from and appears in the discourse itself. This discovery of group meaning becomes the springboard for Stahl's outline of a social theory of collaborative knowing. Stahl also discusses such related issues as the distinction between meaning making at the group level and interpretation at the individual level, appropriate research methodology, philosophical directions for group cognition theory, and suggestions for further empirical work.
---
Reviews of the Book
Click here for several reviews from various sources.

---

Table of Contents Note: The following materials were last revised March 16, 2005, from the final manuscript. This is a pre-publication version of the book. This version has not been edited, laid out or paginated by MIT Press. Please do not cite page numbers from this version or quote from it. This version is only for informal use and may not be duplicated.
Group Cognition:
Computer Support for Building Collaborative Knowledge
by Gerry Stahl
| | |
| --- | --- |
| | Essays on Technology, Interaction and Cognition: pdf or html |
Part I. Design of Computer Support for Collaborating: pdf or html
| | |
| --- | --- |
| | Chapter 1. Share Globally, Adapt Locally: pdf or html |
| | Chapter 2. Evolving a Learning Environment: pdf or html |
| | Chapter 3. Armchair Missions to Mars: pdf or html |
| | Chapter 4. Supporting Situated Interpretation: pdf or html |
| | Chapter 5. Collaboration Technology for Communities: pdf or html |
| | Chapter 6. Perspectives on Collaborative Learning: pdf or html |
| | Chapter 7. Groupware Goes to School: pdf or html |
| | Chapter 8. Knowledge Negotiation Online: pdf or html |
Part II. Analysis of Collaborative Knowledge Building: pdf or html
| | |
| --- | --- |
| | Chapter 9. A Model of Collaborative Knowledge Building: pdf or html |
| | Chapter 10. Rediscovering the Collaboration: pdf or html |
| | Chapter 11. Contributions to a Theory of Collaboration: pdf or html |
| | Chapter 12. In a Moment of Collaboration: pdf or html |
| | Chapter 13. Collaborating with Relational References: pdf or html |
Part III. Theory of Group Collaboration: pdf or html
| | |
| --- | --- |
| | Chapter 14. Communicating with Technology: pdf or html |
| | Chapter 15. Building Collaborative Knowing: pdf or html |
| | Chapter 16. Group Meaning / Individual Interpretation: pdf or html |
| | |
| --- | --- |
| | Chapter 17. Shared Meaning, Common Ground, Group Cognition: pdf or html |
| | Chapter 18. Making Group Cognition Visible: pdf or html |
| | |
| --- | --- |
| | Chapter 19. Can Collaborative groups Think?: pdf or html |
| | Chapter 20. Opening New Worlds for Collaboration: pdf or html |
| | |
| --- | --- |
| | Chapter 21. Thinking at the Small-Group Unit of Analysis: pdf or html |
| | Notes: pdf or html |
The whole book (pre-publication draft version) for printout ~ 500 pages, 4.5 MB: pdf or html